Today, was the main AWS re:invent keynote by the new CEO of AWS Adam Selipsky that took place in Las Vegas, Nevada.
There were a bunch of new service announcements made this year and I wanted to give you a quick summary of the major ones that came up.
New Processors and Instance Types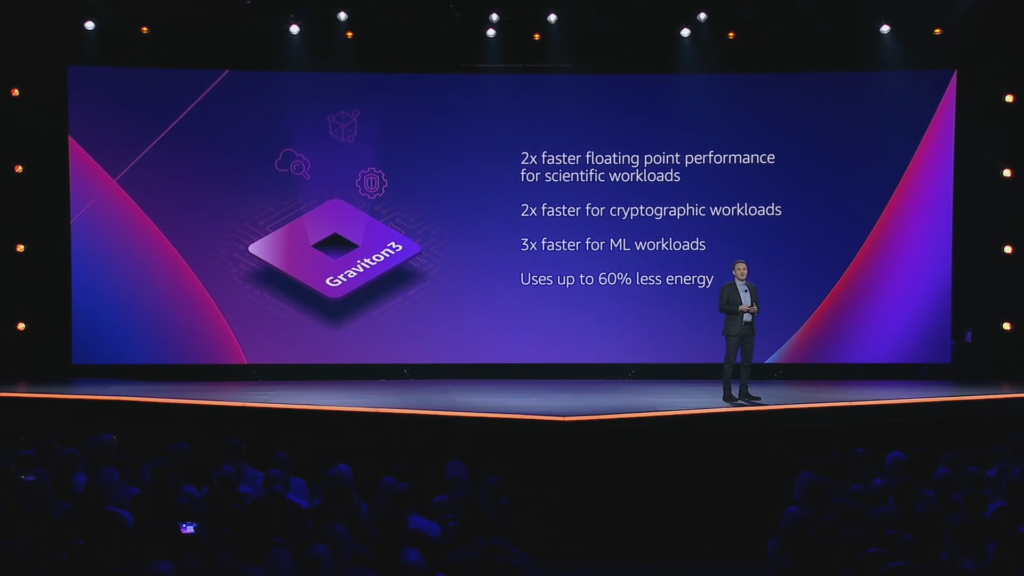 Adam started by introducing a new processor that follows the popular Graviton2 chip. You guessed it – he announced Graviton3.
Graviton 3, like the chips before it, is an in-house developed AWS processor developed for cloud computing. The processor line sports lower energy usage, faster processing, and a whole host
of other features.
The Graivton 3 is a big step up over Graviton 2 – featuring 25% faster speed for general compute, 2x faster floating point and cryptographic computations, and 3X faster for ML workloads. These processors use up to 60% less energy than a chip with comparable specs.
Alongside that, adam announced a new EC2 isntance type called C7G that will use the new graviton3 based processors.
Over the past year AWS has announced support for Graivton2 based processors for services like AWS lambda and ECS. I fully expect that in 2022 we're going to see support for these new processors as well.
Adam also announced a new TRN1 instance type for EC2 that is optimized for model training. The new instance features 800 gbps network bandwidth and seems to be optimized for a ml training cluster where workloads are shared across many many machines.
AWS Mainframe Modernization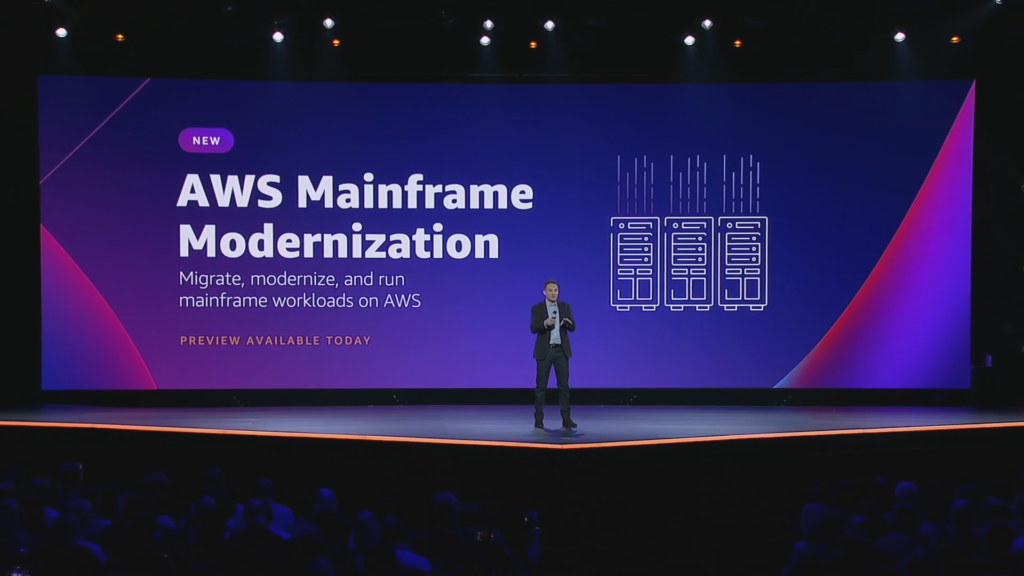 Next up is a new service called AWS Mainframe Modernization. Adam introduced this service by speaking to the number of financial instituion customers using outdated legacy mainframe machines that are looking to modernize.
With mainframe modernization, developers can shift their legacy mainframe infrastructure to the cloud either using a lift and shift or a refactoring process. If choosing the latter, AWS will automatically generate java based code out of standard cobol code used for mainframes.
AWS Private 5G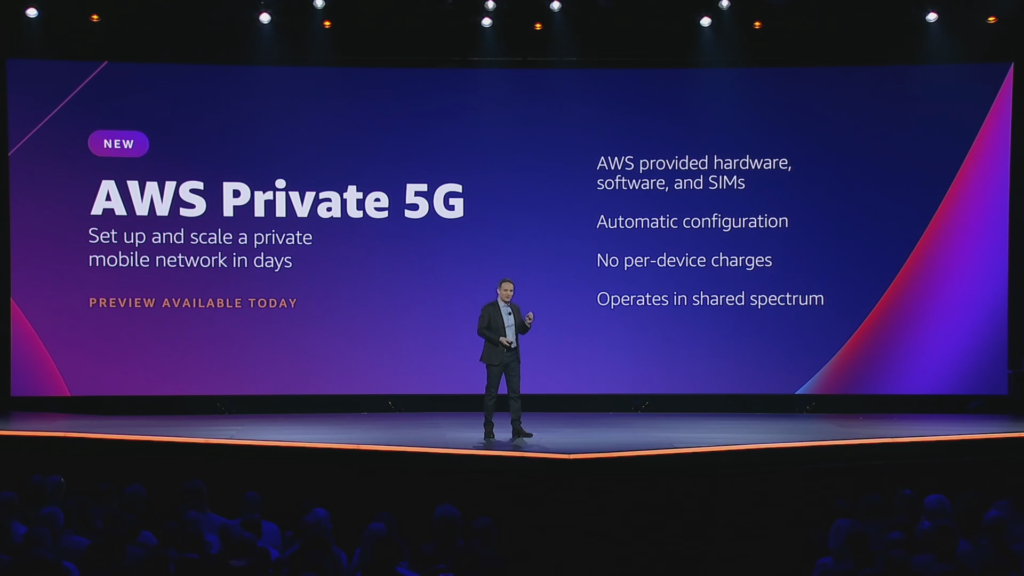 Another new service announced was AWS Private 5G. And I have to say, if anything was truly innovative in re:invent this year it was this service.
Private 5g allows users to set up and scale a PRIVATE 5g network using aws infrastructure. AWS provides the hardware, configuration, and has no limits on the amount of devices that can connect to the network. The service offers a pay as you go model thats pretty flexible and operates on a shared spectrum.
I'm really excited to see how enterprise grade consumers use this new service – its applicable to so many industries looking for lightning fast connectivity to the cloud and I'm excited to see how its leveraged in the future.
Lake Formation Row and Cell Level Security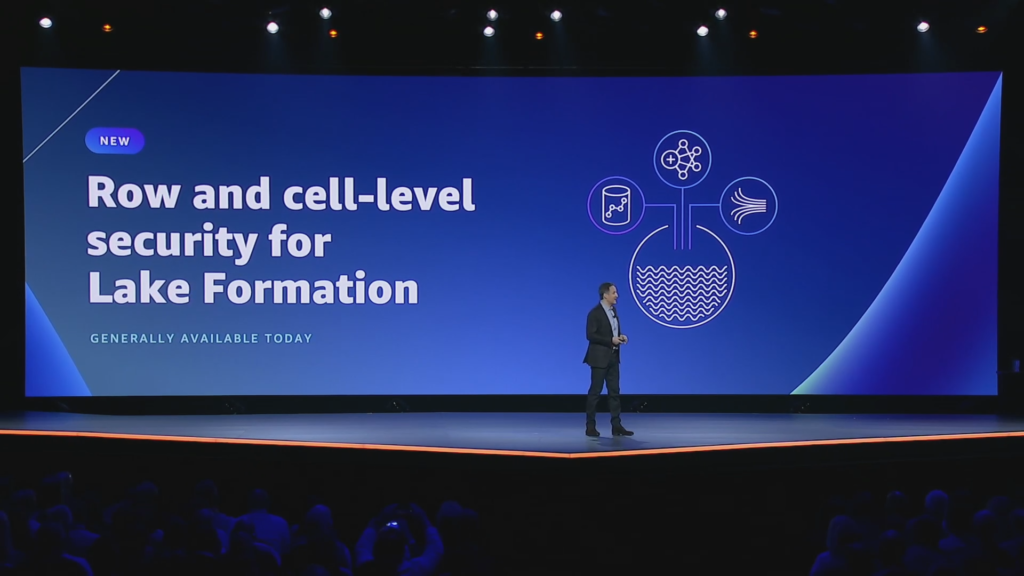 Adam spent a bunch of time discussing data governance this year including Databases, Machine Learninng, Datalakes, and Analytics. And there's a couple different announcements in this category.
Firstly, he announced row and cell level security features for Lake Formation, a popular AWS service used to aggregate data from many different sources and store it in a secure and reliable way. Row and cell level security allow administrators to apply granular access controls to data tables to ensure data security isn't compromised.
Lake Formation Transactions
Alongside that, Adam also announced Transactions for governed tables that support ACID. Using transactions, you can now rely on your data lakes to gracefully handle conflicts and errors between datasets, ensure consistent views and eliminates the need for custom error handling code.
More Serverless Options!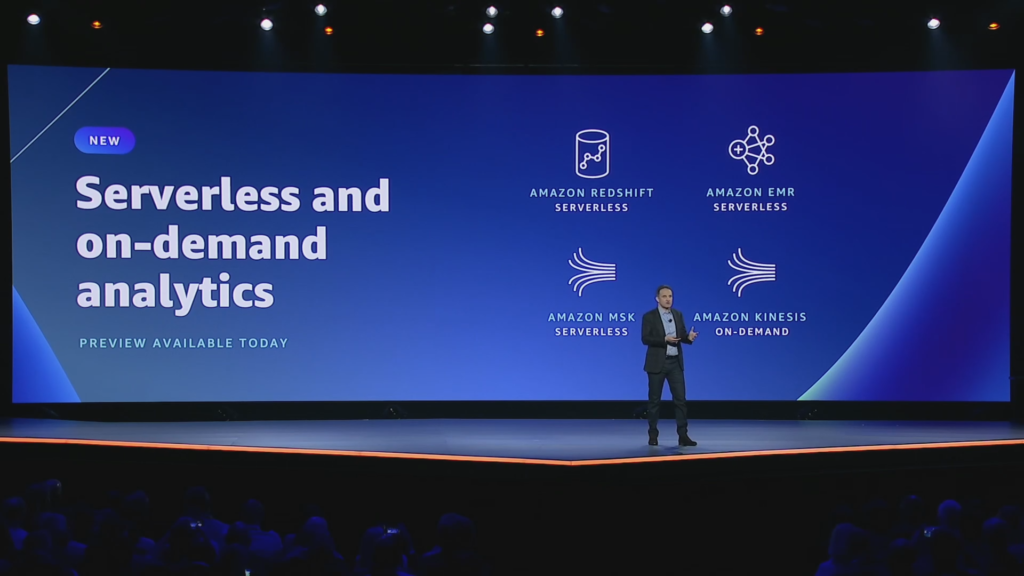 Also in the data and analytics space is a new serverless announcement. Adam announced new serverless modes for popular analytics services including Redshift, EMR, MSK, and Kinesis.
I have to say – this is a godsend. Setting up, and managing infrastructure for these services was a major pain, and I'm super glad AWS is taking the burden of maintenance off the hands of the developer and managing it behind the scenes.
Ontop of that, you can achieve much lower cost using the serverless versions of these products since you'll only pay for the time you're using the product.
Sagemaker Canvas
Next was a relatively small announcement on Sagemaker Canvas. Sagemaker is a service that allows folks to create Machine Learning models in the cloud. Sagemaker canvas piggy backs on a studio style editor that AWS has released for other services such as AWS glue and step functions.
Using this new feature, developers can use the point and click studio to drag and drop elements into their canvas to create powerful machine learning workflows.
Goldman Sachs Financial Cloud For Data
Next up was a vendor specific product called Goldman Sachs Financial Cloud For Data. You may have heard of Goldman sachs before, they're a popular financial institution in the US.
With this product, GS is making available a rich dataset of financial data that it uses internally within the company. Users can discover, manage, and analyze historic financial data for their custom use cases.
AWS IoT Twinmaker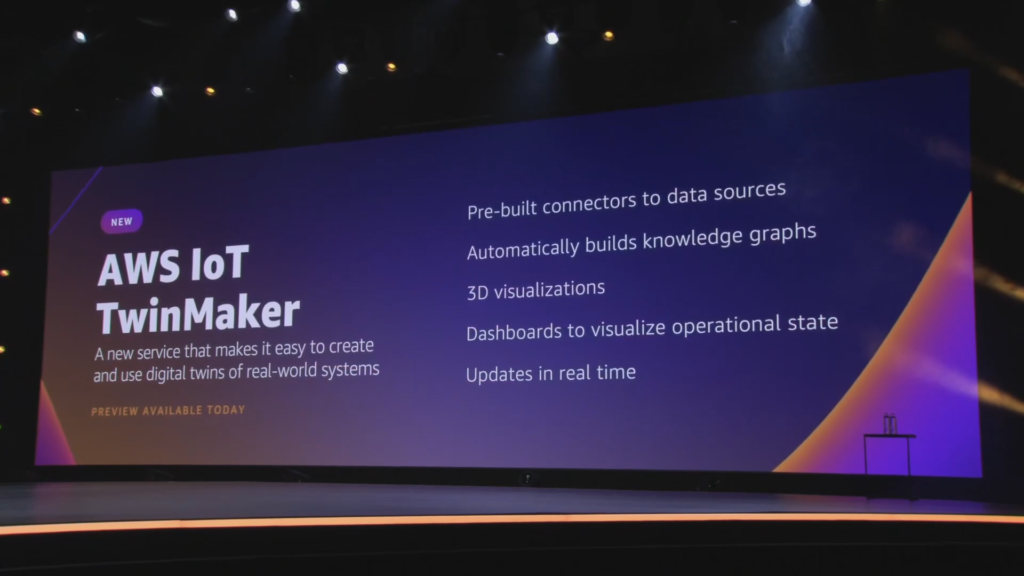 The next two announcements were aimed at the industrial sector. The first new service is called IoT Twinmaker. Twinmaker allows developers to create digital twins of their physical infrastructure. Using this service, developers connect physical devices like equipment sensors to the AWS cloud, and can generate digital representations of their hardware. There are a ton of different applications for this type of service including hardware efficiency, failure monitoring, cost reductions, dashboarding and many more. All of the connected data updates in real time to the cloud.
AWS IoT FleetWise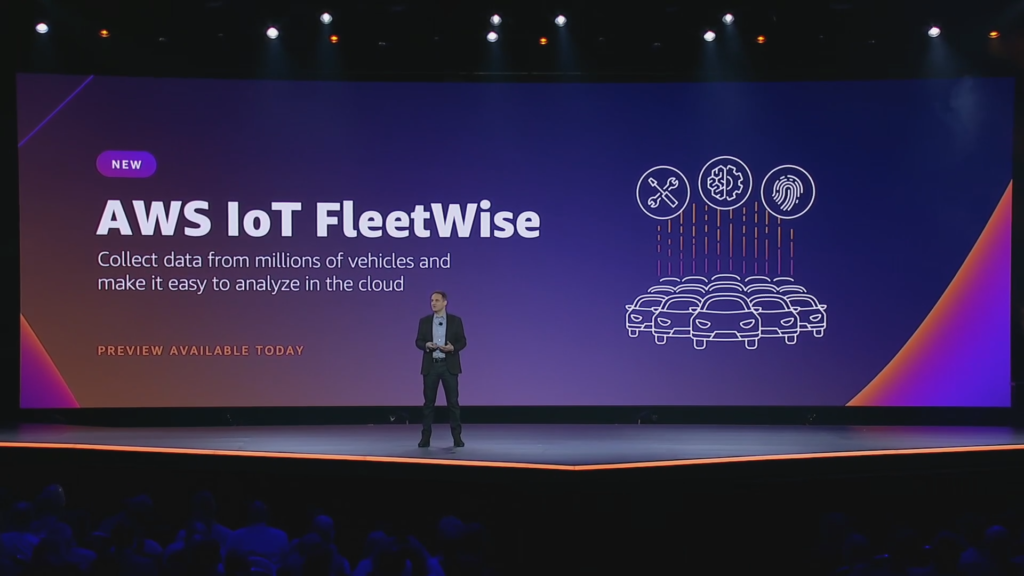 Lastly was another new service called IoT Fleetwise. Fleetwise makes it possible to collect massive amounts of data from fleet vehicles for analysis in the cloud. This can include things like driving speed, accelleration, braking aggressiveness, and a ton of other metrics that help business owners analyze their fleet health to improve safety.
So thats it for this keynote summary. I'll be releasing more summaries later this week on the Peter Desantis and Werner Vogels keynote so make to come back soon!