Standing desk popularity has accelerated throughout 2020 and the Autonomous standing desks are is affordable option for many. Autonomous has been a particularly common suggestion on social media as an alternative to more expense alternatives such as Herman Miller Aeron. For good reason – Autonomous products are high quality despite their reasonable price point.
Autonomous is a smaller, online only company that makes a variety of office furniture. Their main product lines are their SmartDesk (standing desk) and ergonomic office chairs. They also provide a number of office accessories such as monitor arms, filing cabinets, anti fatigue mats, and many more.
One attractive quality that drew me to autonomous was their relatively cheap price point relative to the quality of their products. In many of the office furniture I've tried and tested, you either pay a high price and get good quality, or pay lower and get poor quality.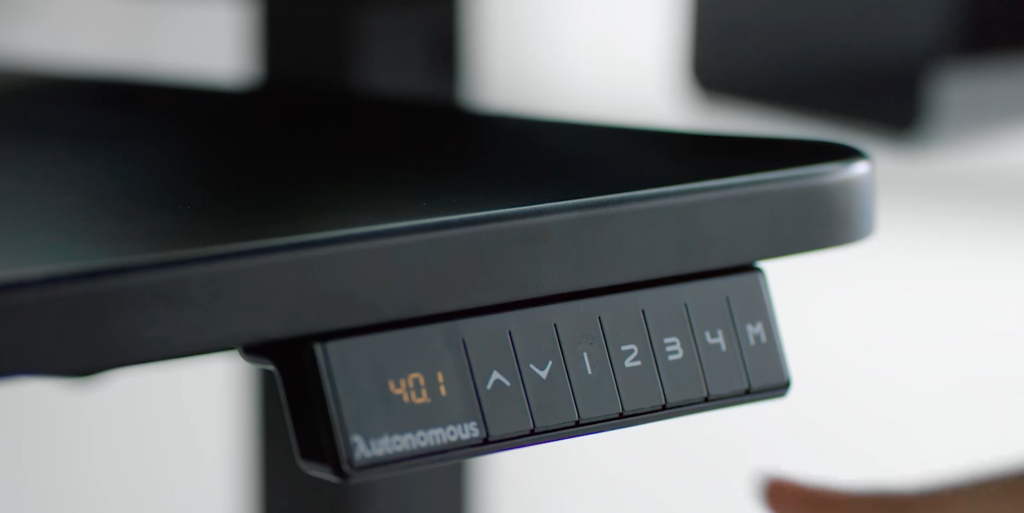 Autnomous seems to have hit that sweet spot balancing affordable prices with great quality. Since purchasing my first SmartDesk 2 Premium a couple years ago, I've since added the ErgoChair 2 and Monitor Arm to my office – and couldn't be happier with both. To add to this, they also offer very reasonable warranties on all their products and many offer free 30 day trials (unfortunately limited to the united states).
You don't have to take my word for it though, there are hundreds of social media posts and review threads all over the internet praising autonomous for their quality.
The Big Question – SmartDesk 2 Home or Premium ?
The most popular offering from Autonomous is no doubt their standing desks. The company offers two main variants: Home and Premium. Both look pretty much identical so the difference isn't immediately clear. However, there are subtle differences that you should be aware of before making your purchase. Let's dive into how the SmartDesk 2 Home and Premium are different.
Price
At first glance, you'll notice there is about a $120 price difference between the two editions. Reasonably you would expect a pretty measurable difference between the products for charging this premium.
The differences however are much more subtle, which I'll summarize for you below.
Home Edition
$479
Premium Edition
$599
Frame
The frame is one of the main differences between the Home and Premium edition. Both frames use what are called leg segments. These leg segments interlock with one another and push against eachother in order to elevate the desk to an adjustable height. The number of leg segments per leg that a frame has affects the height range of the desk itself.
The Home edition sports two of these segments, and as a result its adjustable height can range from 29 to 48 inches.
The Premium edition has three of these segments, and as a result has a broader range from 26 to 58 inches. This means that the premium is more suitable for those of you that are either very short or very tall.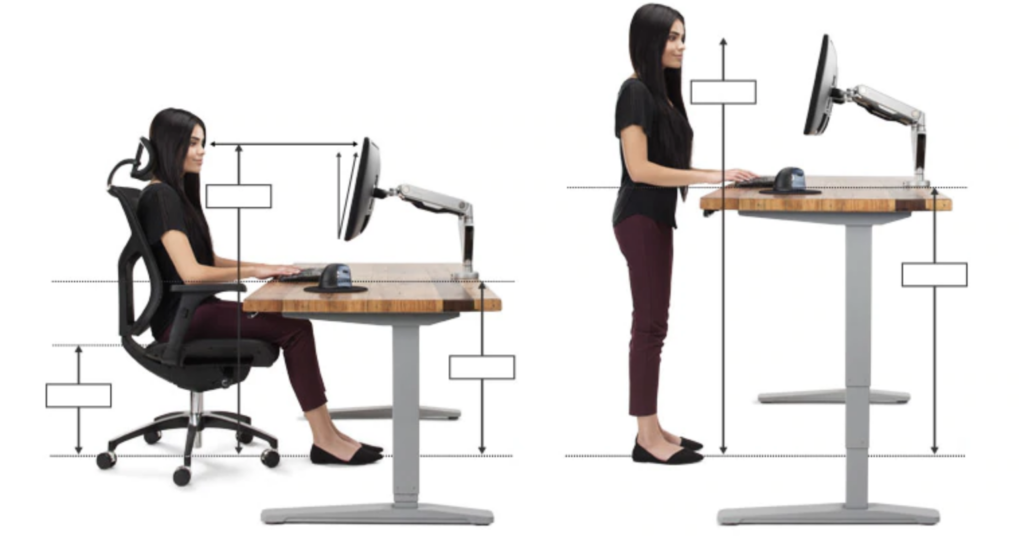 I personally have the Premium edition and think that it is suitable for folks up to 6'3. Any higher than that and you'll probably end staring at a slightly down angle to view your screen, or compromising your wrist/elbow position.
Side Note: The Wobble
As a quick side note, I wanted to share some thoughts on maximum height and 'wobbling' in the frame. I have noticed that if you raise the desk to its maximum height, it tends to get a little bit 'shaky'. This is especially true if you have lots of weight on the top of your desk such as a desktop tower and a large monitor.
I found that if you're able to lower the weight you put on top while at maximum height, you'll be fine. Alternatively, keep the desk height a little lower than usual to counteract the swaying.
This isn't a deal breaker, but just a consideration you should have if you plan on using this desk with more than 2 monitors and a tower. I would say keep the total load below 75 lbs and you should be fine.
Desk Top
One of the most attractive reasons for buying an Autonomous Desk is the wide variety of colour and finishings you can choose from. I personally have the Bamboo and it is absolutely gorgeous. Careful with water rings though – better use a coaster!
The desk tops between the Home and Premium offer the same options: Black, White, Walnut, White Oak, and Bamboo.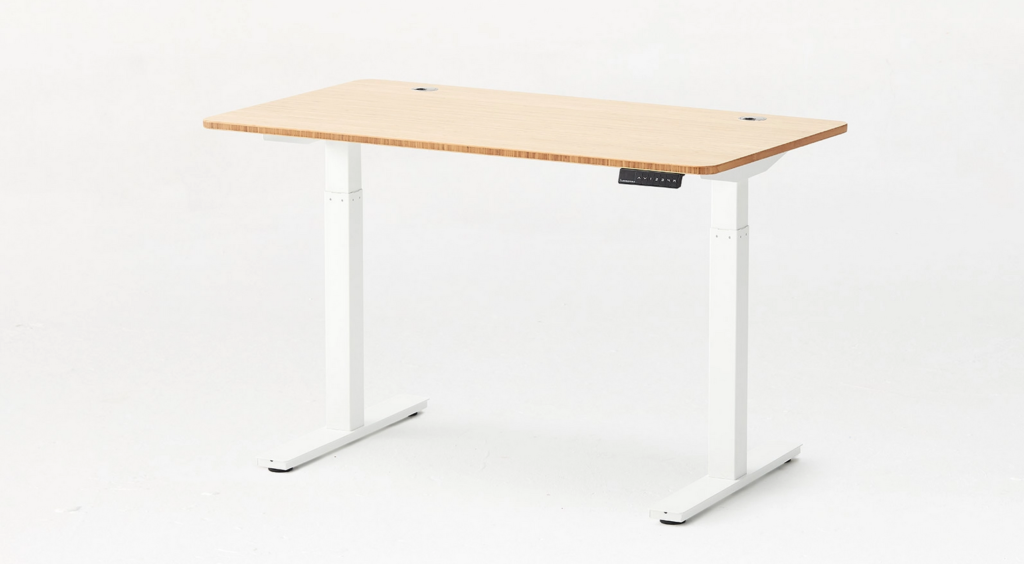 Both desks also have the option of the Classic Top (53 x 29) or the XL Top (70.5 x 30). I personally own the Classic top and regret not getting the XL. Honestly a large desk space is something that you don't realize you need until you run out of space. With extra large monitors and myriad of table accessories these days, I would definitely opt for the larger XL version.
One unfortunate thing to keep in mind though is that the XL version does not come in the Bamboo variation – it only comes in the classic size.
Warranty
This is probably the second biggest difference between the two: the warranty.
Home Edition
1 year for top
5 years for frame
Premium Edition
1 year for top
7 years for frame
---
Both Home and Premium edition come with a standard 1 year warranty for the top. This covers manufacturer defects and a host of other problems (check the fine print). Where the home and premium are different is in the duration of the frame warranty. The Home Edition comes with a 5 year frame warranty and the Premium a 7 year.
Warranties are a consideration that I wouldn't ignore for furniture items like this. The most common failure point of a standing desk is in the motor. I don't know about you, but if I'm shelling out over $600 on a desk, I want to make sure I'm covered for a reasonable period of time. I think the slight price difference is worth it here for an extra 2 years of peace of mind.
Common Features for Both Home and Premium
Both Home and Premium edition come with the following common elements:
Aesthetic Design
Quality Materials
Lifting Motors
Lifting Speed
Weight Capacity
Other Useful Accessories
After owning Autnomous SmartDesk products for a couple years now, I've stumbled on many useful accesories that help address some pain points.
First, get a half decent monitor arm. Autonomous does sell monitor arms but they can be a bit costly. There are some reasonable alternatives on Amazon such as this one below that are in a lower price range.
Second, get a anti fatigue standing mat. This doesn't need to be anything special, after all its just a piece of foam that you stand on. What you'll notice after standing for long periods is that you may start to experience some discomfort. The foam pads that you stand on alleviate some of the pressure of standing on solid floor through their spongy material. There are some reasonably priced anti fatigue mats on Amazon you can check out below.
Summary
As we have seen, there are some subtle but important distinctions between the Autonomous premium and home products. Both offer very similar parts and mechanics, with the main difference being the height range and the warranty.
Currently, the SmartDesk 2 Home is retailing for $479, and the Premium for $599.
You can purchase them here and receive a discount at checkout using this link.
Thanks!
-Daniel